Skirts
---
Now we need the skirt. There are countless varieties. You can find some with wonderful embroidery on a bazaar, or sew one yourself.
Here you have the choice: plain, multicolor, embroidered, wide, narrow, made of lace, gathered up with refinement, with pleat or tips or a simple circular skirt.
Suitable materials are polyester georgette and royal chiffon or pearl chiffon, glitter chiffon, organza or other crease-resistant plastic fibres. Even curtains with lace edges can look phantastic. Silk cannot be recommended, as it is very sensitive and prone to static charging.
Indian sarees, these densely embroidered wedding dresses, can be very suitable. Better take the polyester ones, unfortunately, the original old ones made from pure silk are quite sensitive and easily suffer from intense use. Sequin cloth is another good choice.
Design print looks nice, but I cannot recommend it: contact to sweat and perfume easily removes the color, and all the beauty is gone. There are new materials, holo-design prints, which are less sensitive and even washable in the machine.
Always nice: a circular skirt from polyester georgette with a silver or golden lamée underskirt. Or an underskirt of royal or pearl chiffon (somewhat less transparent) and an upper skirt from (more transparent) polyester georgette. Choosing the right colors can create interesting effects: below a contrasting color, as orange to bilious green or shades of the same color, below a blue and on top a turquoise one - as you like!
Turkish trousers can be worn under a transparent skirt, they are recommended for a sword dance with a floor part.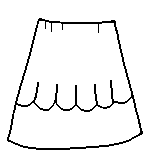 You have to decide yourself how big the skirt will be: some like voluminous skirts made of 2-3 circles, others prefer a narrow design. Or you only find 3 m (10 feet) of a marvellous material for a skirt.
You can wear 2 skirts of the same material on top of each other, with the upper one shorter and cut in with arches.
The edges of the upper skirt can be decorated (see Sewing and decorating hems).
Another solution is a narrow glitter material skirt, with diagonal hems meeting in the front and a thin (pleat) semicircle inserted.

Circular Skirt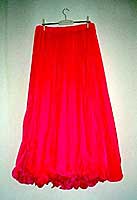 With a material width of 1,12 m (44 inches), you need about 2,5 m (98.5 inches) for the first semicircle and 2 m( 79 inches) for each additional.
Material of 90 cm (35.4 inches) width is only suitable for short women, and with a width of 1.40 m, you will save of the length only if you need more than 3 semicircles.
Cut the skirt as follows:
The desired skirt length plus 10 cm (3.9 inches) allowance for hem and tunnel plus a hip cut-out measured with a pair of compasses set to 10 - 12 cm (3.9 - 4.7 inches).
For a desired length of 90 cm (35.4 inches) , this makes a semicircle of 100 cm (39.4 inches) plus about 12 cm (4.7 inches) for the hip cutout. This is perfect for a material width of 112 cm (44.1 inches).
In this case, however, 2 semicircles will not be enough for the real hip circumference. Better take 3 semicircles or at least a quarter circle in addition.
For a material width of 145 - 150 cm (57 - 60 inches), the hip cut-out can be larger, then 2 semicircles are enough.
With stiff material, you can use the piece cut first as your template for the other ones. Place it along the opposing selvage so that the circle lines touch each other. The size for the half hip cutout is cut out of each piece in a semicircular shape.
For soft materials, as polyester georgette or royal (pearl) chiffon, you should better cut a template. I bought very wide packing paper and glued a big piece together, and then I marked the shape for a skirt semicircle and for a veil on it with a thick black marker.
Now place the cloth straight on the template, but this is not too difficult. If 4 hands are available, each of you pulls at one edge. Or: simply place the cloth on top and pull one edge, then the other, then the first again etc. - now it should be (almost) straight!

All semicircles are sewed together along the selvages. You can leave 1 or 2 sides open or sew up only to half of the height. The hip cut-out is finished with narrow zigzag. The tunnel is made separately by another straight strip of cloth, sewed on the circles and folded over to form a tunnel for the elastic string. This is a common way to make a (new) skirt longer which unfortunately is a bit too short.
Now hang the skirt overnight or over several nights, also in the (damp) bathroom to see how much the diagonal parts of the material can extend.
And how is the lower edge of the skirt cut even? Most skirt rounding devices cannot be adjusted at ankle-length (unless you stand on something), and measuring and pinning is too much effort for me. I prefer the easier way: the future owner of the skirt gets it on and climbs on a low table or a chair. The other person takes the scissors and cuts the skirt along the bottom edge.
Consider first: will you make a hem by folding the skirt over, or will you simply finish the edge with zigzag? That is important for the length.
A good length is between ankle and floor. You will step on a longer skirt, and a shorter one looks awkward.
It is recommended to wear the skirt always in the same position, murk the front middle or the right side to avoid that the skirt is too short in the back and too long in the front, especially if you have a hollow back.

NEW
Narrow skirt in one piece with elastic
For cutting a narrow skirt, you need a sufficiently big piece of rectangular cloth. It should be elastic in the width.
You need the length plus app. 10 cm (3.9 inches) allowance for the elastic tunnel and a sufficient length. Then measure the length (circumference in the widest part) plus seam allowance. If you wish the skirt to be nicely "tight" reduce the width by 2 cm (0.8 inches).
Now simply close the seam on the side, as far as you like. Perhaps up to knee level, so that you have enough room left for moving. Sew a tunnel along the top and pull the elastic through.
Now you adjust the length and seam the skirt.
In the slot at the side you can insert a chiffon half circle showing more or less of the dancer's leg depending on taste (and fixing).

Subject to the material chosen, it is highly recommendable to have an honest look into the mirror, as some materials (as lycra e.g.) show all body contours with merciless clearness - what may not always be welcome.
Therefore, sometimes it is preferable to chose a thicker cloth, or you apply large ornaments or gather the material up in order to hide this or that "critical zone".

NEW
Hollywood skirt with chiffon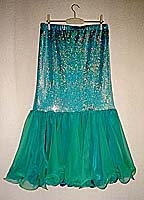 With this basic template and some meters of chiffon, you can sew a wonderful skirt. Cut the skirt to a length only short below knee level and sew chiffon half circles along the bottom edge. Their length is app. 40 - 60 cm (15.8 - 23.6 inches), take 3 or even better 4 half circles.
Simple polyester georgette is a bit more transparent than this great royal or pearl chiffon. Again and again, a combination of two skirts in different colors looks great, maybe a royal chiffon under a polyester georgette skirt. If you leave the side seams of the top skirt open so that the underskirt becomes visible when you spin.
Cut as described under "circular skirt", sew together and on the bottom edge of the skirt. Allow it to hang for levelling, cut even and seam.
Fishing line along the bottom seam gives the skirt a nice volume, that looks great!

NEW
Narrow skirt without elastic

For a better fit, darts are sewn in the waistband. Measure the difference between waist width and hip width and sew the darts in the appropriate places.
With this design, you should cut the top of both vertical edges slightly diagonal before closing the seam to create a kind of dart.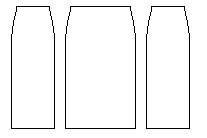 A skirt made from 3-4 pieces fits better. Cut the cloth accordingly (seam allowance!) and slightly cut the top edges in a diagonal way to create a kind of dart.
Attention: this design will work with elastic waist band only if you use stretch material and if the seams have been sewn in an elastic way (with a jersey needle and slight zigzag)! Otherwise the skirt needs a short zip in the back or at the side.
For stabilizing the waist band, you have to enhance it with a strong and/or stiff cloth strip, app. 3 cm (1.2 inches) wide, simply fixed from the inside with straight stitches. Such a skirt can be worn without separate belt.
It is decorated with various ornaments and flourish, or with fringes. This is the costume design for elastic velvet which has become more and more popular in recent years.

NEW
Skirt with sari braid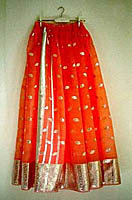 This nice piece is made of a sari with a wonderful braid along the bottom edge. I simply cut the skirt from a rectangular piece with a bottom width of app. 3 - 4 m (10 - 13 feet).
To reduce the quantity of cloth in the waist tunnel I cut the skirt in kind of a bell shape.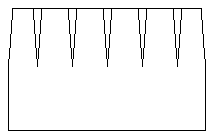 You can also cut several pieces getting more narrow towards the top and sew them together. But you can also make some very long deep darts, cut off what is too much and finish the seams.

Godet skirt Instructions by Samena / Gabi Bullermann. Thank you!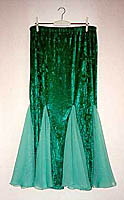 Material required: elastic velvet 1 m (39.4 inches) to 1,12 m (44.1 inches) with a width of 120 - 140 cm (47 - 55 inches), according to your size, chiffon 4 m (13.1 feet) with a width of 112 cm (44.1 inches).
If you wish to have a veil from the same chiffon, add another 2,50 to 2,80 m (8 - 9 feet) (depending on the size of the veil).
From the remaining velvet, you can sew gauntlets and a nice headband.
Now let's start: measure your hip circumference (widest part at your bottom) and cut the required length off the cloth width. This is important, as the velvet has to be elastic in horizontal direction. If you want the skirt to be "tight" take a few centimeters less. Sew the cloth together up to above the knee, with the "right" outsides facing each other.
As in most cases the bottom is thicker than the belly and the skirt should not be shorter in the front, measure about 2 cm (0.8 inches) from the front middle of the waist and cut some of the cloth away, fading to the sides. That results in a small curve.
Now sew a 3 cm (1.3 inches) wide tunnel, fold over 4 cm (1.6 inches), leave a piece open, pull through a 3 cm (1.3 inches) wide elastic string, and fix it. To avoid that the elastic gets twisted in the tunnel, fix it in 4 spots with a few zigzag stitches on the machine. Take the skirt on to define the final length, cut the length plus 1 cm (0.4 inches).
Now divide the hem length by 8 (for 1 m = 12,5 cm; for 39.4 inches = 4.9 inches) and cut the cloth up to 50 cm (20 inches) height. Then you have slots to a bit above the knee. If this seems too high, make the slots shorter. If you want them longer, bear in mind that you will need more chiffon.
Now comes the chiffon, which is somewhat tricky, as it won't remain lying as it is supposed to. I pin it to the carpet. First, cut off the length needed for the veil. Cut a semicircle of 1 m edge length (slot length x 2) from packing paper. Place this paper template along the selvage of the chiffon (which has the advantage that later you only have to finish the hem when sew on the godet.)
Carefully mark dots with a fine marker along the curve of the chiffon. Better don't take a black one (simply pierce it with pins into the carpet). Repeat this for each semicircle. 4 times side by side and the others along the opposed selvage, perhaps a bit shifted to the side. Cut out with some good tailor scissors. A perfect tool is a pair of electric scissors, as chiffon tends to slip away.
Now you pin the semicircles with the selvage to the slots in the velvet - here the effort is worthwhile. It does not look nice if the godet semicircles get distorted when you sew them in.
Now sew everything by machine. Let the skirt hang for at least 4 - 5 days, so that the chiffon can hang out in the middle. Then cut the hem to an even length.
If you have a calm hand and courage, you can melt the chiffon edge with a flame (try first on some spare pieces!!!) to avoid that it gets worn out.
All others will sew the hem by machine or hand. Chiffon requires some patience, but it is worthwhile. If you like, you can apply sequin lace along the insert and a little ornament on the tip or - very trendy - cut oval holes on the thighs, finish the edges, sew velvet bars across the holes and decorate them with embroidery.
---
Copyright © 2000-2012 by Nadya - All rights reserved.
Last modified: