Sewing & decorating hems
---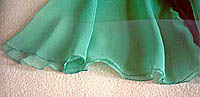 Most cloth materials can be hemmed by zigzag stitches, with the largest stitch width and the transporter almost set at zero. This makes a very dense edge (it does not work on all machines, try it.)
Sometimes, you have to sew a hem, as with elastic material, lamée for example.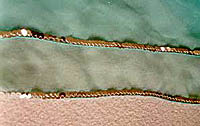 Sequin lace is a nice decoration for skirt and veil edges - and they make sure you find the veil edges during the dance. The 'single track' sequin lace (called 'Flitterschlung' in German) is positioned exactly on the edge and fixed with very slight zigzag and long stitches. Some machines turn out to be quite awkward when you try it, perhaps you can adjust it a bit (density of material). Sometimes the solution may be placing the sequin lace the other way around; if not: respect the individuality of this machine and take another one for sequin laces!
Use a thick needle (90) or a jeans needle.
Hint:
I have found out that a thin needle (70) is better - when pulling out a thicker one, it will lift the sequins, and they will tilt.
Concerning the direction of the sequin lace: place it in front of you and strike along with your finger towards yourself: it is placed correctly if it is smooth in this direction and rough in the other one.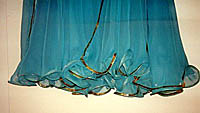 Some skirts including pleat skirts look nice with fishing line in the hem, which forms nice loose waves. Fishing line is available in dance sport shops. Simply place it exactly on the hemmed edge and fix it with zigzag (apply the sequin bead after this!)
Quite elaborate, but very nice are edges lined with pearls and sequins. Some veils need such a bead edge to get the right weight and fly nicely. First hemming, then embroidering like this: pierce the needle through the edge from behind, apply 4-7 beads, and pierce through the edge from behind in app. 2 cm (0.8 inch) distance. If you take more beads and add a large mirror sequin (15 mm, 0.6 inch) in the middle, the bead edge will hang down slightly (often used for Egyptian skirt edges).
This is a wonderful activity for long winter evenings in front of the fireplace.
What, you don't have a fireplace? Then sit in front of the TV screen !
---
Copyright © 2000-2012 by Nadya - All rights reserved.
Last modified: