Sequins, Pearls & Embroidery
---
Sequins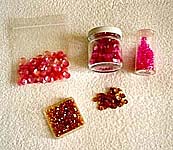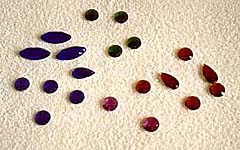 Now you can start embroidering, which is not as difficult as it seems.
I prefer to cover everything with sequins, pearls and rhinestones.
Sequins and pearls are available in any color (see shopping hints). Sometimes you find some extravagant and long-searched color on a bazar or in a department store.
I prefer 6 mm (0.24 inch) bowl sequins for three-dimensional embroidery and 8 mm for filling whole surfaces. Not all colors are available in 8 mm (0.31 inch). Then you have to take a different color, or you have no choice but to use the small ones to fill a large space.
Some metal sequins from Turkey tend to losing their color quite quickly, you can see this already in the bag. I cannot recommend them, you won't enjoy them for long.
There is sequin lace of different widths, sometimes elastic. You can use it around an edge or cover a whole costume with it. Make sure to fix the ends well, so that they don't start to fray.
There is a wide choice of wonderful sequin ornaments, saving a lot of work, but at relatively high cost.
Rhinestone beads applied along the edges look very noble, they come in white or black setting, I like the transparent one most. But rhinestone beads are not very cheap!
Sometimes, I take the belt with me to the shop (Giffels is almost around my corner) and try out which ornaments fit best (and on the top).
For a belt and a top, allow for 4-5 bags of 8 mm (0.31 inch) sequins.

Pearls
Finding pearls of suitable color may turn out to be difficult. The dance sport supply shops don't have any, or not the suitable ones or only expensive ones.
You have to shop around a bit in department stores and needlework or hobby supply shops to discover treasuries. Tabou and Giffels offer a wide range today. Or you buy "on site" during a trip to Egypt or Turkey or ask a friend to bring some along.
The pearls should be quite small, but with a hole big enough for the needle including thread.
There are round "rocailles", smoothened or sqare "long stick pearls" as in the Egyptian belts. The square ones sometimes have sharp edges which can cut the thread. But often you have no choice, as there is only one kind of pearls in the desired color.

Needle and thread
I always use buttonhole thread, best of polyester. This is relatively expensive, but very durable. You can also use strong yarn, dental floss or fishing line.
Now you need a needle for embroidering, which is not so easy: the eye has to be large enough to let the yarn through, but small enough to pass through the pearls.
In most cases I use needles no. 9. Yes, the buttonhole thread passes through, if you have sharp scissors and a calm hand (and perhaps a "threader").

Embroiding
Now we have sequins, pearls, needle and thread, perhaps some sequin ornaments or rhinestones for sewing or whatever we wish to apply. Rhinestones can be made of plastic or glass, for sewing or glueing. The big ones by "Swarovski" for sewing (see chapter "Rhinestones").
Wax pearls look nice if arranged around rhinestones, for example. Or place long glass sticks side by side to form a leaf or whatever you like.
When you work with ready-made sequin ornaments, first fix them and fill the area all around with sequins, in the same color or a contrasting color. Classical combinations are blue/gold, red/gold or turquoise/silver. But even a monochrome costume, red for example, can look much nicer if you combine it with varios shades of red and maybe a little orange and gold.
You have various possibilities for embroidery with single sequins. The single sequins can overlap each other so that they form a surface and you don't see the thread any more.
You can fix each sequin with a pearl: Pierce the needle through the cloth from below, sequin and pearl on top (does the needle go through?) and back again through the sequin (not the pearl) and the cloth. The sequins are placed very densely so that you don't see the cloth any more.
Or you can combine 2 sequins with 2-3 pearls: Pierce the needle through the cloth from below, put sequin and 2-3 pearls on top, second sequin next to the first, pierce. With this technique, all pearls should point towards the same direction, that looks best (mostly used for Egyptian costumes).
That sounds like a lot of work, but it is not that bad.
For advanced: 'bulges' - needle through the cloth from below, pearl, sequin, pearl, sequin, pearl, sequin, pearl, last sequin on top next to the first, pierce through cloth, pull tight (and fix once on the backside). With 6 mm (0.24 inch) use 5 sequins and 4 pearls, with 8 mm (0.31 inch) take more sequins or bigger pearls.
These bulges can be as long as you like, place the last sequin far enough from the first one, so that it does not get too high.
Placing many of them side by side, you can create three-dimensional rows, circles, curved lines and many ornaments, or work all around large rhinestones. Curves are formed by increasing the distance between the ends. The bulges can be very close to each other, so the whole thing becomes very dense. This technique is often used for Turkish costumes.
I often apply rhinestones and various shades of one color, as 3 different shades of blue and silver stones.
The edge of a belt can be covered with pearls or rhinestone lace (looks very noble), or simply sew sequins up to the edge.
Try it (on a sewing sample) and create the greatest designs. I always shop around on bazars or shows for new inspirations by fashion trends, new colors, shapes and ideas.
All this embroidering work is perfect while watching TV – or better "listening to TV". In the course of time, you can identify famous actors by their voices.
You should sit comfortably, without bent back or neck, which can be quite painful. ;-)
---
Copyright © 2000-2012 by Nadya - All rights reserved.
Last modified: