Rhinestones
---
The word "rhinestones" accelerates the heartbeat of a dancer and makes her eyes glow!
Rhinestone stand for elegance, luxory and glamour.
Recently, rhinestone-decorated costumes have become in, mostly as "Crystal AB" which sparkles nicely and matches any color.
There are rhinestones for sewing, recently including this giant size.
Those for glueing come in two versions: the normal ones, where you have to apply the glue yourself on the back of the stone or on the cloth, and the "hot-fix" stones available now which come with a glue layer on the back. To glue them, you need a kind of soldering iron. You take it to pick up the stone, heat it up for a short time and place it on the cloth. This works well, but these hot-fix stones are more expensive, and buying a soldering iron is only worthwhile if you have to apply large quantities of rhinestones.
Concerning the sizes I can say: SS20 (5 mm, 0.2 inches) is suitable for glueing, SS30 (8 mm, 0.31 inches) can be applied for larger features.
The Name "Swarovski"can be used as a synonym for rhinestones. This Austrian company stands for rhinestones, as they have invented this kind of fashion jewelry and the fine cutting ot glass stones. You will know these tiny crystal glass animals? THAT is Swarovski!
Wonderful fashion jewelry has been another very successful product line for some years now.
Meanwhile there are some more rhinestone producers, also in Egypt and Turkey. Sometimes you can buy second quality.
The prices vary a lot, but 1st quality Swarovski stones are always worth their money, in my opinion!
In my shopping hints I have listed various shops offering different qualities.
In myshopping hints I have listed various shops offering different qualities.
Prices for sewing rhinestones
I love these giant sewing rhinestones by Swarovski!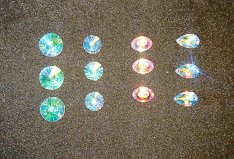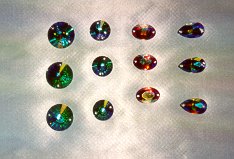 They are Crystal AB stones, not colored, but only sparkling in various colors.
However: these stones are difficult to find, and the prices vary considerably. Here comes a list of the shops and prices I know of.
If you have any additional info, welcome.
In Istanbul or Cairo you can get very good rhinestones, best buy them on site or ask someone to bring them, then it's worthwhile.
01/2003: The latest news from *Ayascha* : in Turkey 1 kg rhinestones cost approx. 150 Euro.
Djamila has checked weight and price for 2 stones in Turkey, you find the details in the list.
Thank the two of you!
As of: 01/2003
Evelin
Harren 1)
Tanzshop
WeselAs of: 02/2006
Die
TanzmausAs of: 02/2006
Strasshaus CH
Chrisanne UK
1 Price: Crystal AB
2 Prices: Crystal / Crystal AB
Euro
+ MwSt
Euro
Euro
CHF
£
Square small
16 mm
0,99
1,25
1,00
1,30
1,05
1,30
3,00
0,95
Square large
22 mm
1,51
2,11
1,20
1,80
1,60
2,00
4,50
1,60
Triangle small
16 mm
0,95
1,21
1,00
1,30
1,00
1,25
3,00
0,90
Triangle large
22 mm
1,42
2,03
1,20
1,80
1,50
2,10
4,50
1,50
Oval small
16 x 11 mm
0,82
1,03
1,00
1,30
0,55
0,70
3,00
0,75
Oval large
24 x 17 mm
1,21
1,72
1,20
1,80
1,30
1,75
4,50
1,30
Drop Turkey
22 x 15 mm
4 gr. 0,60 Euro
Drop small
18 x 10,5 mm
0,91
1,16
1,00
1,30
0,95
1,20
3,00
0,90
Drop large
28 x 17 mm
1,25
1,81
1,20
1,80
1,30
1,90
4,50
1,35
Round Turkey
16 mm
1,9 gr. 0,30 Euro
Round very small
10 mm
0,50
0,60
Round small
12 mm
0,60
0,70
Round middle
14 mm
0,70
0,80
0,70
0,90
Round medium
16 mm
1,00
1,30
Round large
18 mm
1,20
1,60
1,30
1,65
1) for orders below 50 Euro: 10 % surcarge
Glueing rhinestones
Basically, I have glued rhinestones exactly like the sequins on crocheted gauntlets.
But there is a different way as well!
Sheritra and Dschinny (thank you!) explain this in quite a clear way in the forum of Orientalweb:
Sheritra:
Hello! I am one of those people who cannot leave anything as it is *grin* and always add something new on the costume or so.
Now I have always applied this special glue for the tiny rhinestones and that worked well, but it takes so long until it is dry *yawn*.
Who of you is working with the hot fix stones? You need such a special device (looking like a soldering iron - sorry) but how hot does it get?
Do I have to take care that I don't burn any holes into the cloth? I can't imagine, but I would appreciate your experience before I buy such a device.
Sincerely, Sheritra
Dschinny:
Hello dear Sheritra, soldering iron????
For the stones I know you only need a candle and a pair of tweezers.
You hold the stones with the tweezers (best pointed ones) next to a flame (not directly into the flame, it will get black) and when the glue is "bubbling" it is hot enough to fix the stone on the cloth.
Take it off the flame and place it on the cloth. Best put something under the cloth (a piece of cardboard maybe), as the stones get very hot. You will not burn holes but maybe your fingers ;-). If a stone should fall into a candle, simply take it off and let it dry, then you can remove the wax easily and use the stone (if it was not "fried" before).
Have fun and a nice weekend Dschinny
Sheritra:
Hello dear Dschinny,
Soldering iron???? Yes, the picture looks somewhat like one.
You insert the stone in the tip, heat it up and glue the stone on. At least I assume it works like that. And I was wondering how hot it may get.
But thanks for the hint with the candle. I use one for seaming my lamée. Only my friend is angry because it stinks and his tea gets cold. *laugh*.
Best regards! Sheritra
Subaia (Maike Ockoniewski) told me (thank you!) that she has such a wonderful device for glueing rhinestones.
Subaia:
I can answer that question regarding "hot glueing"! I have such a device. You really have to pick up the stone with the tip of a kind of soldering iron, wait for a moment and then quickly press the stone on the cloth.
In general, that lasts forever. (I have sewn some ballroom dance dresses etc.) Take care with artificial fibres wich are very fine, as elastic net material. It will melt immediately and get ugly holes. So best try before with the empty nozzle!!
If you don't want to use hot glue, next durable option would be instant glue on gel basis, followed by Pattex. The simple rhinestone glue has shown the worst durability, unfortunately.
I hope my info helps you!
---

New:
I received another suggestion: the instant glue may attack the coating of the rhinestones which will fall off after some time, with the coating remaining fixed on the cloth.
---
Thank you all for your hints, I hope they are helpful for the readers as well.
---
Copyright © 2000-2012 by Nadya - All rights reserved.
Last modified: