Costume Galery 2
---
Here comes the second part of the small costume galery.
This 2 color costume was one of my first, I had found the material for the skirt and now needed a nice costume.

I call it "Lisa" (Lila - Rosa) as I cannot tell whether it is "lila" (violet) or "rosa" (pink).

Here I placed the fringes in a diagonal line across the top and used green as contrast. The straps are somewhat wider on the sholders.

The skirt for this pink-grey costume is very voluminous, two full circles with a big flounce. Shiva made it. You can see the indispensable silver unterskirt shimmering through.
When I saw these photos, I immediately startet to crochet pink gauntlets, they simply look better in the same color as the skirt!

Morgana, Shiva and I were puzzling quite a while to create the design of that red costume. The sleeves are made of polyester georgette, as the veil.

2 Costumes in opposed colors in cherry red / silver
These two costumes are of opposed colors, one with silver sequins, silver stones, red short fringes and a red skirt starting from the knee, the colors of the other one are arranged the other way around.
The red is not the common tomato red but a kind of dark cherry red, somewhere between tomato red and pink.
Fringes of these colors were available in Egypt some time ago, and we found matching sequins, pearls and lace.
There is a wide embroidery made from stones surrounded by sequins and 10 cm (3.9 inches) long fringes at the bottom end of the embroidery. The belt has an Egyptian design (with the round part in the back) and 30 cm (11.8 inches) fringes at the bottom.
The cups of the top have the same embroidery along the edges, with 10 cm (3.9 inches) fringes.
The narrow skirt is made of red lace with white lining. Starting from the knee, the skirt consists of 2 rows of 12 cm (4.7 inches) wide strips (in red or white) and is boldly embroidered with red or silver pearls and sequins, resp.
We have gauntlets, but no veils. A white veil is perfect, Tabou has the glitter-chiffon in wine red, which is also great.
The costumes are selfmade (teamwork Shiva & Nadya).
It was time to pass them on, now they have found a new home: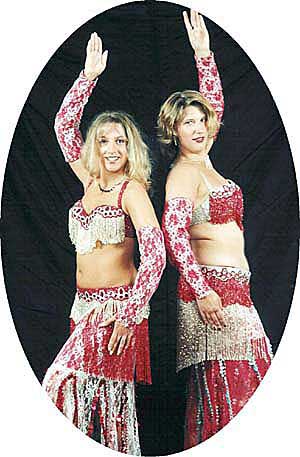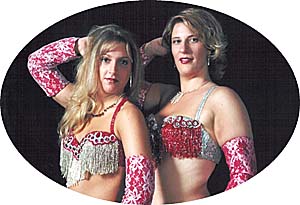 For the third part klick here: Costume galery 3
---
Copyright © 2000-2012 by Nadya - All rights reserved.
Last modified: