Costume Galery 3
---
Here are photos from newer costumes.
This is another one of my creations, the colors are perfect for Sheila.
As you see, she is quite happy with it.
For the history of this costume, see photo story.
---

Now I have sold this goody, I needed the green fringes. They were missing, as I had sold them.... yes, that's quite a long story.
Anyway, I applied this Turkish technique with the three-dimensional embroidery. I always placed one rhinestone and added some embroidery, and so on and so on, playing around a bit with the colors of sequins and pearls.
So the embroidery was spreading all over belt and bra, it is not symmetric, which would be quite difficult with this technique.
---

For Andrea and Sheila, I have made two very nice costumes.
Velvet was gathered, with some black surrounded rhinestones.
Unfortunately, I have not taken pictures of the skirts and the complete costumes, perhaps I get some pictures of the costumes "in action".

Elisabeth had a clear vision of her costume. Her colours are my favorite colours, too! Have a look how amazing this turquoise and light green does harmonize with die rhinestones.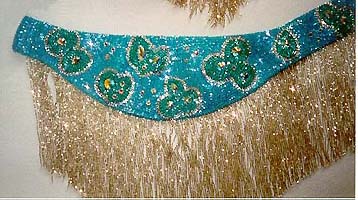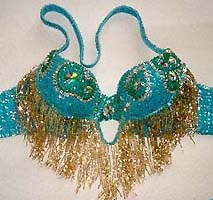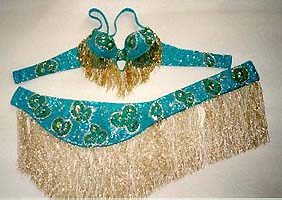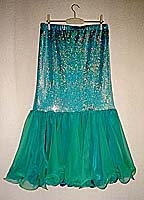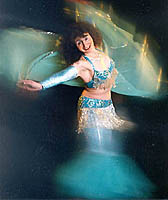 ---

Here is another nice in pink with big rhinestones: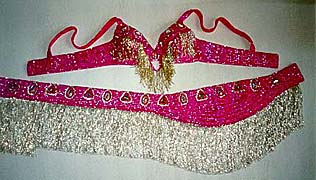 ---

With this pink one the embroidery is spread over the costume itself.
---

And there was the troupe, which would like to have something pharaonic.
The costime sonstist of bra, belt and a kind of "tie", which is fixed in the middle.



The whole outfit was need multiple, they were 8 girls in total.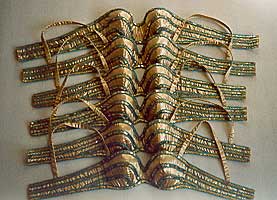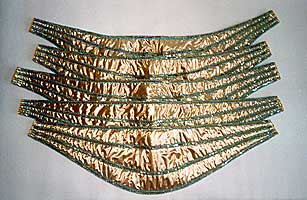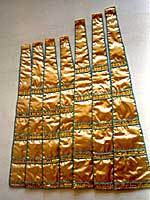 A kind of decoration has been made too: around the upper arm, the wrist and the head with a hanging item beside the ear. The whole things exist 8 times, here you can only see parts of it.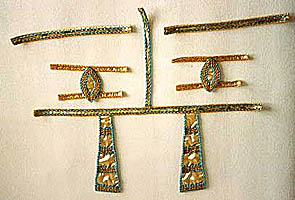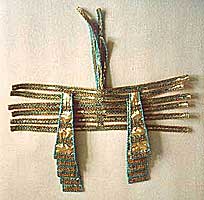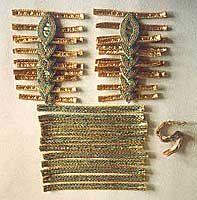 The plissee-skirt in his whole gorgeousness.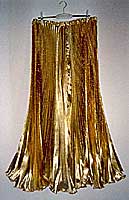 The whole troup with 7 girls and in complete beauty.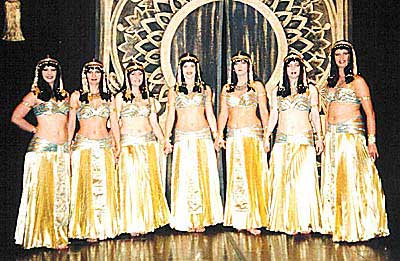 ---

This is a really special one: gathered and decorated with Rhinestones.
Copyright © 2000-2012 by Nadya - All rights reserved.
Last modified: