Other tops
Dschinny's "Pull-overs"
---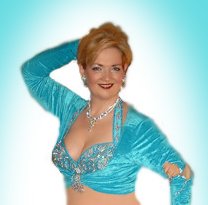 Dschinny: (thank you for this hint!)
My self-made top version for less slim women seems to be interesting for others as well. Therefore I am describing here how that works.
It is almost a normal top, simply pulled over the head like a sweater, no hooks, no eyes, no zip, no buttons.
Then you push the edges under the bra, and there you go. On this picture you can see what it looks like before being folded under the bra:
That means you can wear it as closed top over a normal bra – or as a kind of bolero, as shown on the picture above.
The jacket itself is not gathered in the middle (although it looks as if it were), but is brought to shape only by a cloth loop. Depending on the width of this loop, the top is gathered, so you can vary it according to your own taste.
The following has to be considered:
The material has to be very elastic, best in both directions, but also highly flexible velvet is fine.
If the material is elastic in only one direction, it has to be cut so that it is elastic in the WIDTH.
The collar cut-out has to be big enough (logical ;-)), but to not too wide, as it may slip down the shoulders.
When cutting the cloth, make sure that the front part of the shoulders is a bit longer than for other tops (the seam should not be in the middle, but a bit towards the back), as the top will move a bit to the front when you pull the edges under the bra, otherwise the seam would not be in the middle of the shoulder. The top on the photo was not designed as a pull-over, therefore the seam is not 100 % in the right position (as you can see from the photo under it ... but I wear it anyway).
The back should have 2 darts, as the back part of the top will move up when you push the edges under the bra and otherwise the back edge would stand away. Darts will prevent that, and the top will fit perfectly in the back.
So, that's it.
I hope you could understand the instructions halfway :-).
best regards
Dschinny
---
Copyright © 2000-2012 by Nadya - All rights reserved.
Last modified: