Other sewing Links
---
Bauchtanz-Info by Djamila
Among Djamila's hints and tricks, you find many very useful pieces of information, as make-up, checklist for performances, a contract sample etc.
Last but not least: a great second hand bargaining place!
Magdalena
Magdalena has a very nice collection of sewing hints incl. Dresses and Turkish trousers (I need more practice for that!).
Nähkurs für Bauchtanz-Kostüme mit Rita
Rita is tailor master and also has many instructions for folk dance costumes on her homepage.
Natron und Soda
hava a kind of "freestyle-technique".
Many hints about material and handling, incl. shopping and a fresh style of writing. They even have a vivid forum.
Hobbyschneiderin
Whoever has a question concering sewing, the forum is the place to ask - and at the same time you find lots of useful information.
Costumegoddess
Here you can order a great series of books by Dina Lydia, with many expert hints for costume sewing.
Djamila used to offer these books in her range.
Shira's Costume Corner
This page is a must. Have a look!
Desertmoondance
In the chapter "modiste" there is a lot of useful information and in "Buyers Guide" you find many links all over the world.
Shanmonster
This is a real treasure, with information on history, dance movements, costume hints and: animated gif's!
NEW:
Davina
Davina provide us with a free booklet "hints and tips for the belly dance costumer" in PDF-Format. I like her drawings. Enjoy!
These two are wonderful, aren't they?
I found the left one on a little flea market in Berlin - and the other one in ebay.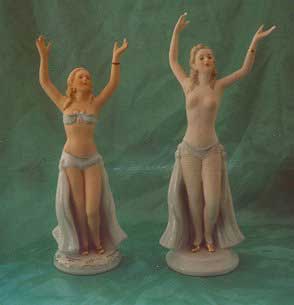 ---
Copyright © 2000-2012 by Nadya - All rights reserved.
Last modified: