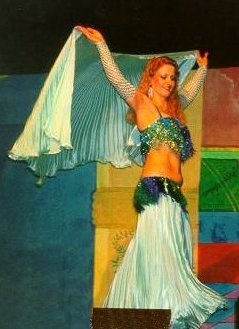 In 1987, I was strangely fascinated by a TV report on oriental dance.

Soon after that, I found myself in a class at an adult education centre, trying my first "oriental steps ".

The following continual practice and many workshops with well-known female and male dancers of the oriental dancing scene form a stable basis for my dance and artistic education (Mojgan Azarmi, Shiva, Shahrazad, Manis, Hassan Khalil, Beata & Horacio Cifuentes, Sahra Saeeda, Wendy Bounaventura, Gamal Seif, Dietlinde Karkutli, Feyrouz, Magdy El-Leisy, Momo Kadous etc.).