Sequin applications
---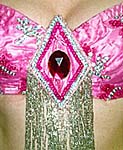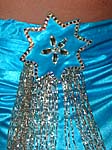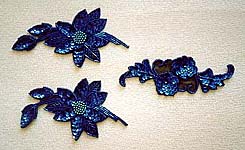 There is very stiff 'Schabracken-Vliseline' or evenweave fabric, perfect for enhancing anything or for self-made sequin ornaments.
First cut the desired shape out of paper and take this as template for cutting the cloth and the stiff Schabracken-Vliseline or the evenweave fabric. I would place the stiff material and the thicker Kalmuck in the middle and cut one layer of strong cotton for the top and the bottom layer.
Place all cut pieces on top of each other and pin them together. Fix them with zigzag and enhance the edge by very narrow zigzag.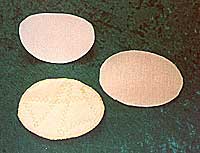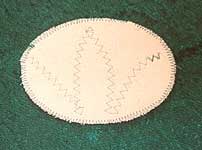 Now the basic shape is ready and can be covered with the desired material.
Important: if you want to cover the whole ornament with embroidery, you can simply sew with the machine as convenient. But if some parts will be without embroidery, machine stitches should be invisible. Place the cloth on top, fold it over (perhaps cut it in before) and fix by pins before you zigzag the edge alone.
I decorate this edge with sequins or glued rhinestones, which is the noble version.
Now the good piece is decorated, with sequins and rhinestones - a question of phantasy.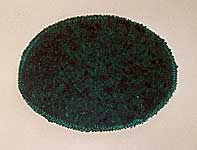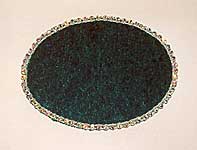 Sewing fringes along the lower edge is a very good solution.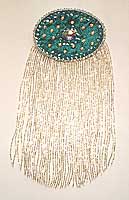 Here comes a selection of possible designs.


Hint: avoid too many long tips (I only say: stars!), fixing and sewing the cover material by machine is very tricky!
I use these ornaments to hide the fasteners of wider belts, and to emphasize the centre of the top.
They are also perfect as optical highlights for simpler costumes.
---
Copyright © 2000-2012 by Nadya - All rights reserved.
Last modified: