Meleya Lef
---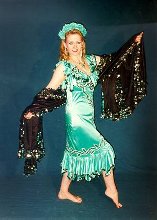 The meleya is a big black cloak worn by the women around Alexandria and at the same time the name of the dance with this cloak: Meleya Lef. Under this black cloth, the women hide quite exciting dresses, and the dance is cheeky and sexy. Sometimes you see high heels and chewing gum!
The edge of this meleya is surrounded by embroidery or crochet work with big mirror sequins and often subdivided in the middle length with the same decoration.
I have made my own meleya, but it is really a lot of work, and the material is more expensive than a ready-made one.
Here comes a short instruction: it consists of two rectangular pieces of cloth, conntected by crochet work along the edges. The dimensions are 2 x 2,25 x 60 cm (2 x 88.6 x 23.6 inches) (original dimensions of meleyas by Mahmoud Abd el Ghaffar, Cairo).
His (and therefore my) material was black jersey, but you can surely use any other tough black cloth.
The secret of the sequins within the crochet work is that the sequins are first stringed on the crocheting yarn. You take rather thin black crocheting thread and at least 2 bags of big sequins (15 mm, 0.6 inches) of the desired color or two different colors, with holes close to the edge, and a thick sewing needle for stringing all these sequins.
That takes some effort, but then almost half the work is done. Now cut the cloth to size, seam it, and start crocheting: wind the thread 2 times around the needle, pierce through the cloth, crochet one double crotchet, 2 chain stitches, slide 1 sequin over the needle, 2 chain stitches, again 2 turns, pierce through the cloth in approx. 2-3 cm (0.8-2.3 inches) distance, one double crotchet, 2 chain stitches, 1 slide one sequin over the needle, 2 chain stitches, 1 double crotchet...
At the corners, crochet a corresponding "corner" (I hope you understand what I mean *smile*).
In the end, I had 8 rows of such double crotchet stitch/sequins around the two pieces of cloth, starting with the connection between the two and then working all around.
It takes quite a time and an amazing quantity of thread and sequins - but for me it was worthwhile, it is "my personal" meleya!
When all sequins have been used, you have no other choice but to start with the other end of the thread, string new sequins and move them towards the crochet work.
The colored sequins of ready-made meleyas often tend to lose their color, especially due to sweat, quickly causing pink or turquiose spots under your arms or on your hands. The colored sequins you can buy here have a more durable color quality.
Here are some photos to show you what it looks like, click on them to enlarge.
---
Copyright © 2000-2012 by Nadya - All rights reserved.
Last modified: