Candelabra
---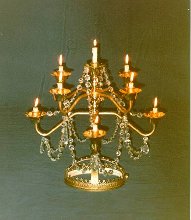 Latest News: at present, there is no chance to order candelabras in the US.
Neu:
Here you will find 3 adresses in germany, where you can order candelabras especially manufactured for you:
http://www.ben-keskin.de.vu
http://www.malu-tanz.de
http://www.sakkara.de
And one address in California:
http://www.layaliyasmine.com/Shamadan.html
There are many different dance candelabras, my favourite one is shown on the photo. It is made to size in the US.
Egyptian or Turkish candelabras are somewhat wide and bulky, difficult to adapt to your head shape and look quite "makeshift".
But the candelabras/shamadans looks quite better in the last time, see also above adresses.
How do I get such an American candelabra?
get your head dimensions
order
wait
hope it will fit!
You need your head circumference, ear-to-ear and front-back in whole or half centimeters.
Best take 2 measuring tapes and 1 paper clip and ask someone to help you.
First tie the tape around your head at the height where you will wear the candelabra. Fix it with the paper clip and note the centimeters.
Then use with the other measuring tape at the lower edge of the first one to measure the centimeters ear-to-ear and front-back. (The ears are exactly between front and back in most cases). If in doubt, better round up to the next half centimeter (better some air in between than too tight).
The easiest way to order is by fax: indicate your address, the dimensions and the payment method. Simplest way is the credit card number, otherwise they will ask for a bank-certified. US$ cheque or an international bank transfer, complicated and expensive. I do not know the present price in US$, around 250 €.
Now you have to wait, a few months or half a year. Perhaps you can call to follow up. Then you are notified by the German customs: Hurray, it has arrived! The duties depend on the value, so ask for an invoice with the shipment.
In this cardboard box are the candelabra, many stuffing flakes and a bag with 2-3 spare ornaments, so don't just take the candelabra out and throw everything else away! Sometimes, ornaments fall off during transport.
The box is very suitable for storing and transport, you can decorate it (add name and address!)
I took a thick cord as handle (from a shopping bag). Drill 2 holes in the lid, pull the cord through and make knots on the ends – there you go!
And now comes the timid question: does it fit on your head? At first trial it won't, you have to bend it a bit until it fits. You can make it wider or tighter by a screw in the back for approx. 5 cm. But mostly, some trials are enough to make it fit. All around the interior, I have fixed a window sealing strip, so that it does not queeze too much.
Some wrap a piece of cloth all around or put a (non-slippy) veil on their heads (also protecting against wax). You can glue some rhinestones on, that looks nice, too.
If the candelabra will not fit at all, find out whether the dimensions were not correct, order a new one and sell the old one! Or find someone (smith or watch-maker) daring to give it a try.
Normal candles are OK, but they have some additional weight. And they drip, especially if you are dancing in air draught. Mostly, I use Christmas tree candles (buy some more during Christmas time). Also these tiny doll candles, which will keep burning, are quite cute.
Here comes the address, contact Ali Hamidzadeh (they also have very good cills, even silver and gold covered!):

turquoiseintl@earthlink.net
http://www.turquoiseintl.com
Turqoise International
22830 Califa street
Woodland Hills
Californien 91367 USA
fax: 001 - 818 - 999 34 14
fon: 001 - 818 - 999 55 42
001 - 800 - 548 94 22
---
Copyright © 2000-2012 by Nadya - All rights reserved.
Last modified: